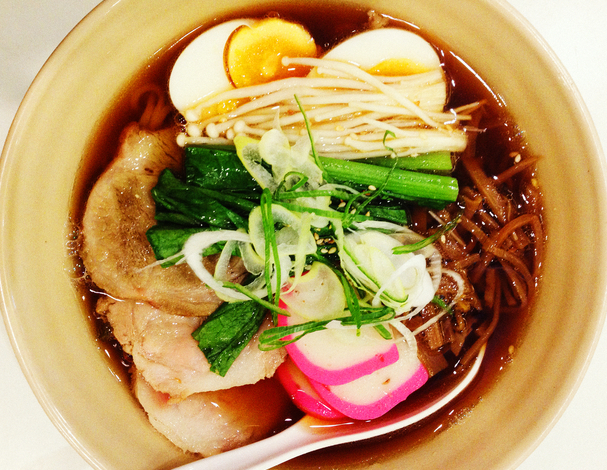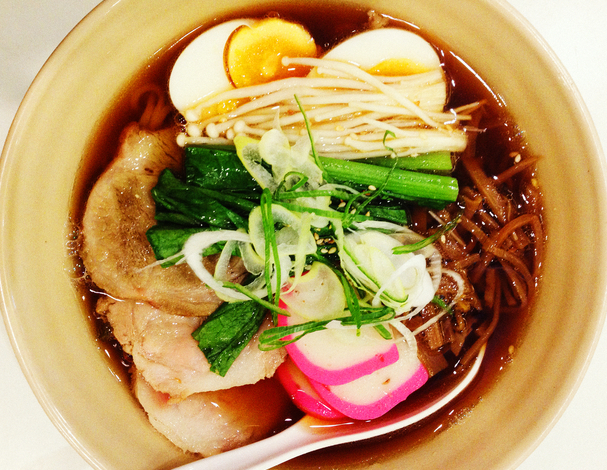 Print Recipe
Ingredients
4 cups Ramen Broth
Juice of two lemons
Two packages cooked Ramen Noodles, OR fresh Ramen Noodles (if you can find them)
Roasted Chicken, pulled off the bone or Roasted Pork (sliced in rounds)
Japanese Mushrooms, blanched in salted water
4 radishes, thinly sliced, OR Fish Cakes
2 tablespoon Micro Celery (or chives)
3-minute Soft-Boiled Egg (see recipe)
½ cup Tare (see recipe)
3 by 6-inch piece of kelp (aka konbu)
2 cups of dried shitake mushrooms
4 pounds of chicken thighs
5 pounds of pork ribs
1 pound smoked ham hock
1 bunch of scallions
1 medium onion
2 large carrots
Tare (see recipe)
1 cup Sake
1 cup Miron (rice wine vinegar)
2 cups light soy sauce
4 chicken legs
Instructions
1

Warm the cooked noodles, chicken/pork and vegetables in broth. Add Tare. Garnish with micro celery, mushrooms, radishes/fish cakes, and soft-bowled egg.

2

Rinse the kelp; then, add 6 quarts of water in large stockpot and simmer for 20 minutes. Very important: do not let the broth boil.

3

Preheat oven to 400 degrees F.

4

Take out and discard the kelp. Add the mushrooms to the broth.

5

Prepare to render the fat from the meats. On a cookie sheet, spread evenly the pork ribs, chicken thighs, and ham hock. Bake for 30 minutes. Take out of oven and add to stockpot.

6

Continue to simmer for 6 hours on very low heat. Never bring to a boil. Never stir the stock.

7

Every hour or so, check the broth and skim the foam off the top. Add water to cover bones, when necessary.

8

Prepare vegetables. Rough chop the two carrots, one onion, and bunch of scallions. Set aside.

9

After 5 ½ hours, add the vegetables to the stock. Simmer for another 45 minutes. Do not add any more water.

10

Prepare to strain the broth. Turn off the heat. Let the broth sit for 30 minutes. Strain through a fine mesh strainer and discard everything but the broth.

11

Add Taré (3/4 to 1 cup) to taste.

12

Preheat oven to 450 degrees F.

13

Roast the chicken legs for 45 minutes. Using the same pot, deglaze the pot with the liquids. Cook for 45 minutes on low heat. Strain and discard the bones.