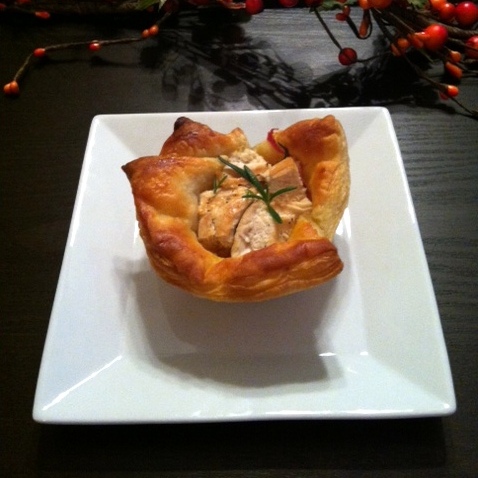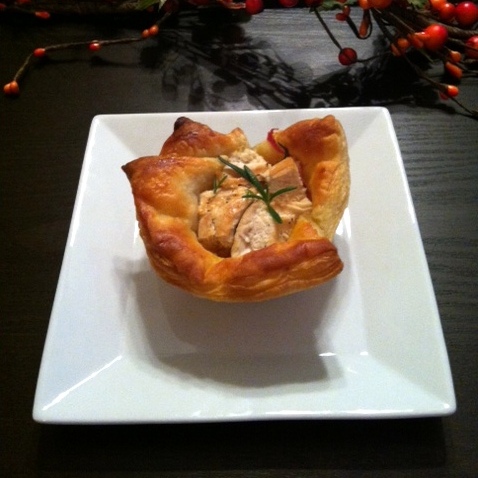 Print Recipe
Puff Pastry Purses
This recipe can be made with any of your favorite ingredients. It's especially fun to make with Thanksgiving leftovers. Just substitute the ingredients with mashed potatoes, stuffing, turkey, & top with gravy and some gruyere…. Delish!
Ingredients
1 sheet of puff pastry (Pepperidge Farm is easy to find in the store)
1 cup of shredded rotisserie chicken
2 tbsp red peppered jelly
4 oz of brie
1 tablespoons chopped fresh rosemary leaves
1 egg (lightly beaten to be used as an egg wash)
1 tbsp of flour
cooking spray
Instructions
1

Preheat oven to 400 degrees F.

2

Remove 1 sheet of puff pastry from the freezer and let thaw 20-30 minutes. Once puff pastry is thawed, use a little flour to roll it out just a little bit, and then cut into 4 even squares.

3

Spray a regular muffin tin with cooking spray so the puff pastry won't stick. Take each square and place them in the muffin tins, carefully pressing down so it creates a pocket.

4

Simply layer the brie, jelly, and chicken in the puff pastry. Lightly brush the edges with egg wash and place in the oven for 15-20 minutes until golden brown. Pull out and let cool and sprinkle with rosemary and serve.