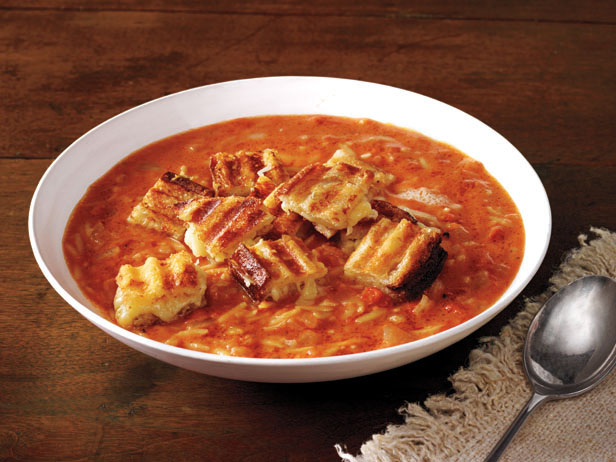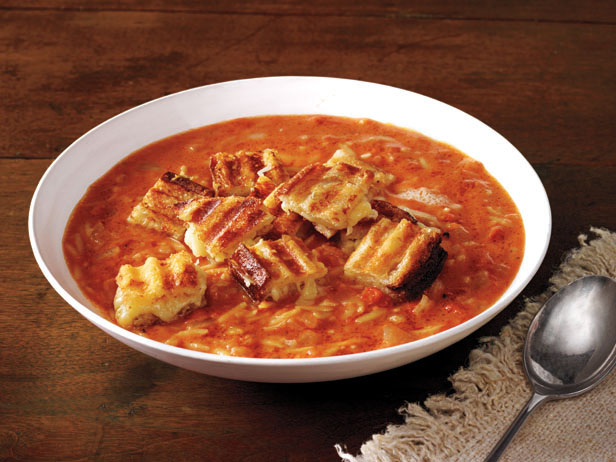 Print Recipe
Tomato Basil Soup & Grilled Cheese
Ingredients
4 tablespoons olive oil
2 cups yellow onions, chopped
3 cloves of garlic (finely chopped)
4 cups chicken or vegetable stock
1 (28-ounce) can crushed tomatoes
1 (6-ounce) can of tomato paste
1 large bunch of basil (Chiffonade)
Pinch of salt and freshly ground black pepper
Pinch of red pepper flakes
1/2 cup orzo
1/2 cup heavy cream
One large ciabatta roll (sliced in half)
1 tablespoon butter
4 ounces of Gruyere cheese (grated finely)
*the rind of a Parmesan wheel (you can skip this if you don't have parmesan already in your fridge. I like to save my rind and add it to soups as they coup. Then once the soup is cooked, you remove the rind. This adds flavor to the soup.)
Instructions
1

Heat olive oil in a large bot or dutch oven on medium. Add the onions and cook over medium heat for 15 minutes, stirring occasionally, until golden brown. Add the garlic and cook for 1 more minute (making sure it does not burn). Add the chicken stock, tomatoes, basil, red pepper flakes, salt and teaspoon pepper. Bring the soup to a boil, then lower the heat and simmer covered for 15 minutes.

2

In a separate bot, bring salted water to a boil for the orzo. Add the orzo and cook for 7 minutes and strain. Add the Orzo to the soup, and add the cream. Return the soup to a simmer and cook for 10 more minutes.

3

For the Grilled Cheese:Heat a panini grill. Butter the inside of the bread and add Gruyere on to make a sandwich. Brush olive oil on the outside of the bread and grill on panini for about 6 minutes or until melted. Slice into strips or into 1 inch squares to float on top of the soup.