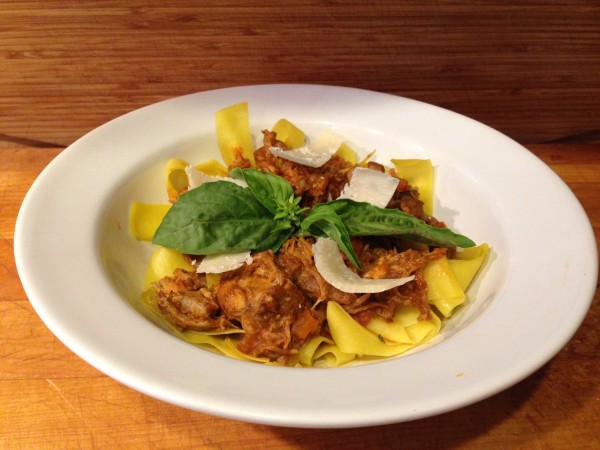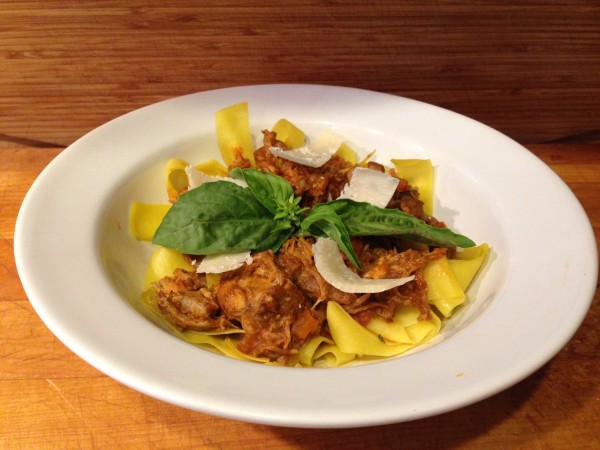 Print Recipe
Slow Roasted Pork Ragu with Tagliatelle
Ingredients
3 1/4 lb. boneless pork shoulder roast, quartered
Kosher salt and freshly ground pepper, to taste
1 cup all-purpose flour
3 Tbs. olive oil
1 cup diced pancetta
1 yellow or red onion, diced (I prefer red for its sweeter flavor)
3 carrots, peeled and cut into 3/4-inch dice
2-3 leeks, finely chopped/sliced (white & green parts)
3-5 cloves of garlic chopped Tbs. minced garlic
1 1/2 lb. cremini or mixed mushrooms, quartered
1 can (28 oz.) diced tomatoes, drained * (or homemade tomato sauce – recipe below)
1 small can of tomato paste
1- 2 cups red wine
1 cup chicken or beef broth
3/4 lb. Tagliatelle, cooked al dente or homemade
Lots of chopped dried Italian seasonings (2-3 Tbls)
1/4 cup Grana Podano
Instructions
1

Season the pork with salt and pepper. Lightly flour the pork on all sides. In a slow cooker or dutch oven, over medium-high heat, warm 2 Tbs. of the olive oil. Working in batches, brown the pork on all sides (about 8 minutes per batch) until you see it start to caramelize. Remove the pork and set aside.

2

Reduce the heat to medium; add the pancetta, until browned, 3 to 5 minutes. Add the onion, carrots and leeks and cook, stirring occasionally, until tender, 5 minutes. Add the garlic and cook (stirring constantly so the garlic doesn't burn) for 1 minute. Transfer to a bowl.

3

Increase the heat to medium-high and warm the remaining 1 Tbs. olive oil. Add the mushrooms and cook, stirring occasionally, until browned, about 15 minutes. Transfer to a bowl. Add the tomatoes/sauce, tomato paste, 1 cup of the wine and chicken broth to the slow cooker and bring to a simmer. Add the pork, pancetta mixture and mushrooms and transfer to the slow-cooker. Cover and cook on medium until the pork starts to get tender, about 5 hours. Turn down to low, add 1 more cup of wine & cook for 2-3 more hours.

4

Fold the pasta into the ragù and sprinkle with the grana padano. Divide the pasta and sauce among individual bowls and serve immediately.

5

*Homemade tomato sauce – Whether you grab some tomatoes from your garden, the farmers market or your local store, this is my favorite go to tomato sauce. The only ingredients you need are tomatoes, basil, olive oil, garlic, salt & pepper. You don't even have to peel the tomatoes. Use your own judgment for measuring to your liking. Literally throw everything into a blender or food process and there you have it!