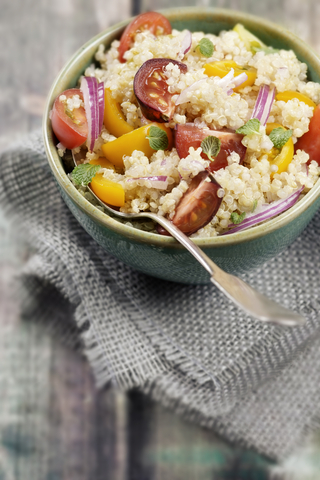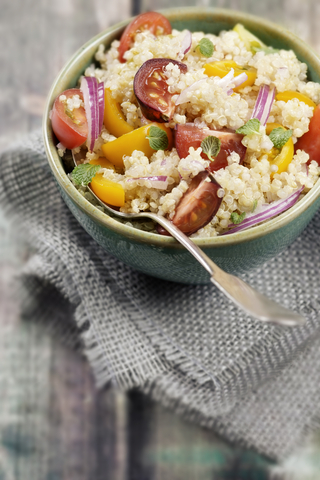 Print Recipe
Quinoa Salad w/ Feta & Cherry Tomatoes
Ingredients
1 cup Quinoa
1 cup Chicken Stock
1 cup Water
1 cup red & yellow cherry tomatoes (halved)
½ cup Feta
1 tbsp Scallions or thinly sliced red onions
1 Lemon
2 tbsp Olive Oil
1/3 toasted pignoles (pine nuts)
1 cup sliced Mushrooms (optional)
2 cups Arugula or a handful of sage (preference)
Salt & Pepper to taste
Instructions
1

Place quinoa, chicken stock & water in a saucepan and bring to a boil. Reduce to a simmer and cover until water is absorbed (aprox. 15 min.). Set aside to cool.

2

In a mixing bowl, combine pignoles, chopped scallions, sliced tomatoes, arugula, feta, salt & pepper.

3

After the Quinoa is cooked, fluff with a fork and add a squeeze of lemon, tsp of olive oil, mushrooms, salt & pepper to taste. Let cool off until room temp. Add the cooled quinoa to the mixing bowl.

4

Squeeze the rest of the lemon lemon and add the remaining olive oil to quinoa and combine. Add salt & pepper to taste.