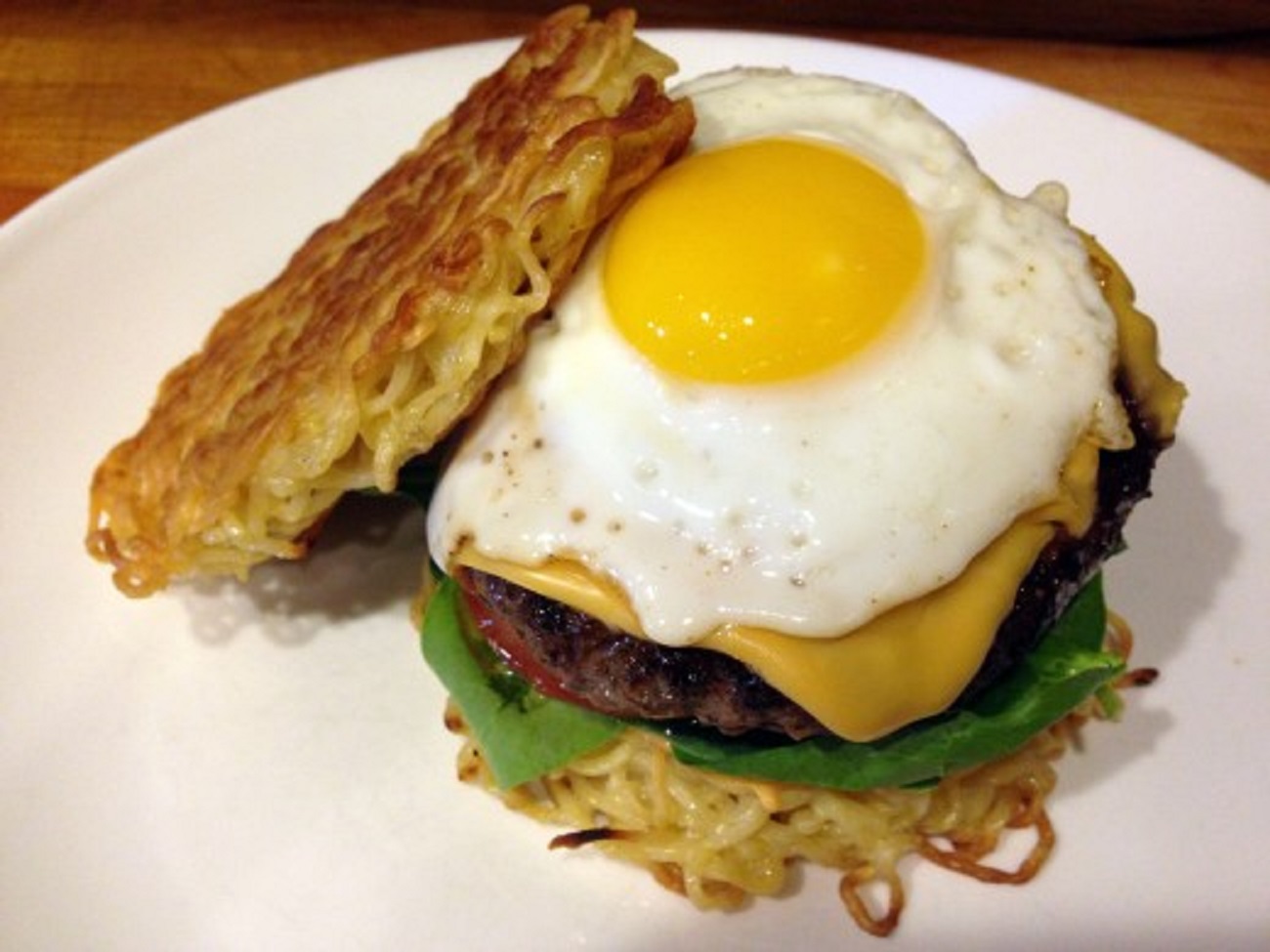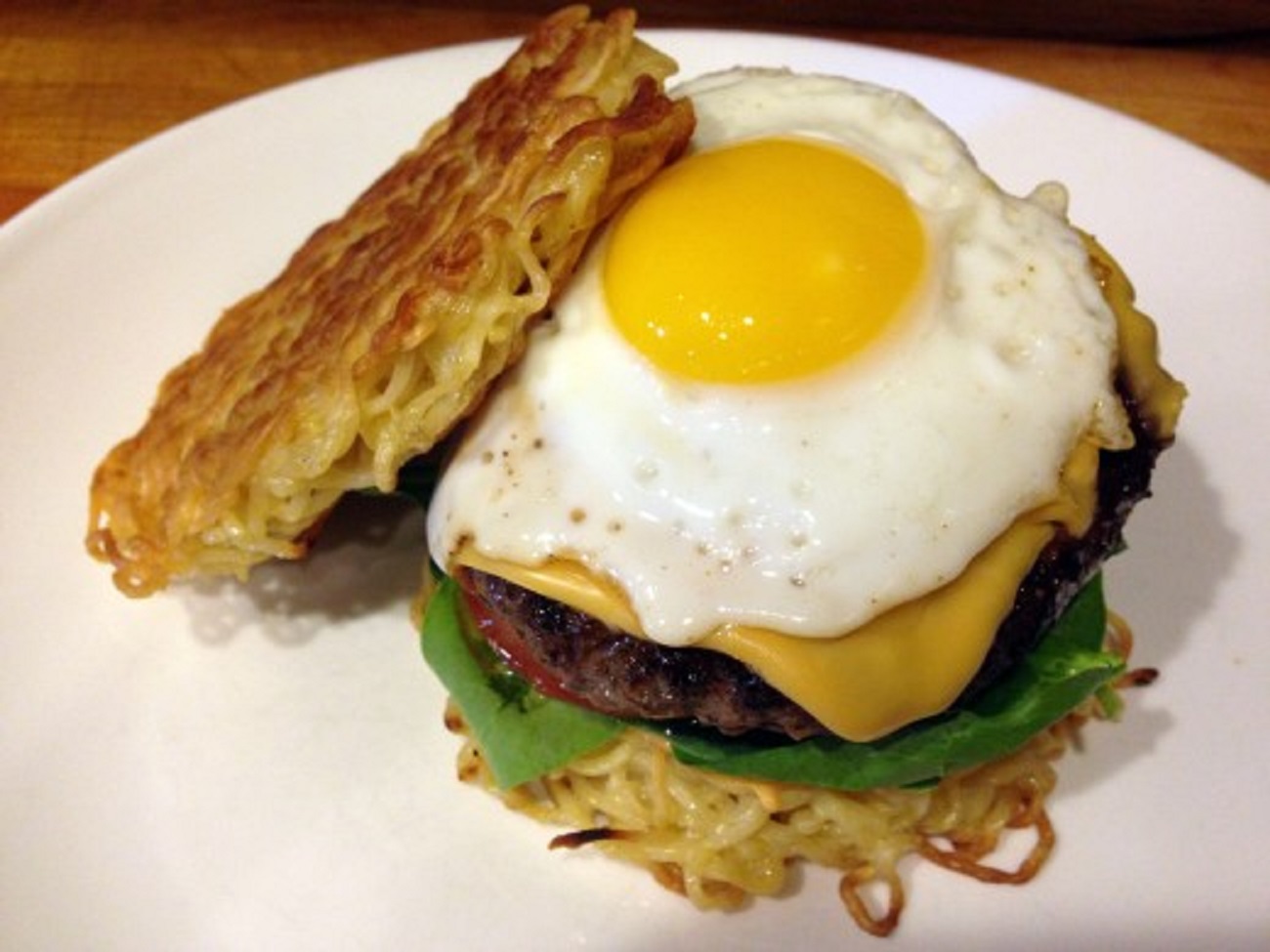 Print Recipe
THE RAMEN BURGER
A slight burst of silky delight oozing from my mouth… Sticky and creamy, once nestled safely tucked in its white shell, now the star to all that is Ramen. It is the almighty Egg. And it's not just for breakfast anymore! There are two things we know to be true. The first being that the burger still remains king of all American guilty pleasures, and the second being that Ramen has always been a staple of Indulgence. Combine the two, curated together by the egg, and it's just fucking delicious! Now it's still debatable where Ramen came from. Whether derived from the Chinese or Japanese, the one thing we can be sure of is that in 1958, 'instant noodles' became one of the greatest Japanese inventions of the 20th Century. What once simmered for hours on the stove top, accompanied by the delicate process of making noodles, was now a thing of the past. While we Americans continue to stake claim in the birth of the hamburger in the 20th century, its international popularity gained momentum instantaneously. So while Raman made its way over to the states from Asia, the hamburger made its way across oceans on its own. Two completely separate regions, making their way into the mainstream. I'm sure we can all recall those poor college days where substituting most of our meals for Top Ramen was common practice. With flavor packs loaded with sodium and dehydrated peas, it somehow passed as a meal. To this day, it still does. Just add hot water, and magic! But what happens when you take Ramen and elevate it in its very simplicity? I introduce you to the Ramen Burger! The same modest .69 cent packaged memory, now the framework of 2 culinary cultures combined as one. By casting 'instant ramen' into round molds, we create a mirror image of the hamburger bun. Add an egg to bind the noodles together, let rest in the fridge for 30 minutes, and these bad boys are ready to be fried up on the stove top. Grill your burger, fry your egg, and add that special sauce and you have a Ramen Burger!
Ingredients
Ramen Buns
2 (3 ounce) packages instant ramen noodles, cooked and cool
1 Ramen noodle flavor packet
2 large eggs, lightly beaten
Salt and ground black pepper to taste
¾ pound ground meat (can be lean ground beef or turkey)
1 tablespoon soy sauce
1 teaspoon sesame oil
3 tablespoons vegetable oil, divided
4 slices Gouda cheese, 2 slices for each burger
1/4 cup ketchup
4 tablespoons Sriracha Aioli
1-1/2 cups arugula, as garnish
2 large eggs, fried, as garnish
1 cup mayonnaise
1 tablespoon garlic
2 tablespoons Sriracha
Instructions
1

Cook Ramen noodles as instructed.

2

In a separate bowl, beat 2 eggs in a bowl. Season with one package Ramen seasoning; add salt and pepper to taste. Stir cooked and cooled Ramen noodles into eggs until

4

Divide noodles into four burger-size ramekins. Place a sheet of plastic wrap

5

directly over noodles and stack another bowl on top to flatten noodles.

6

Refrigerate until firm, about 20 minutes.5.

7

Heat one tablespoon vegetable oil in a large skillet over medium-high heat. Invert each Ramen ramekin, gently tapping the bottom of the bowl until Ramen loosens. Be gentle to maintain bun shape.

8

Mix all ingredients in a small bowl. Reserve.

9

*Serve with your favorite burger toppings!