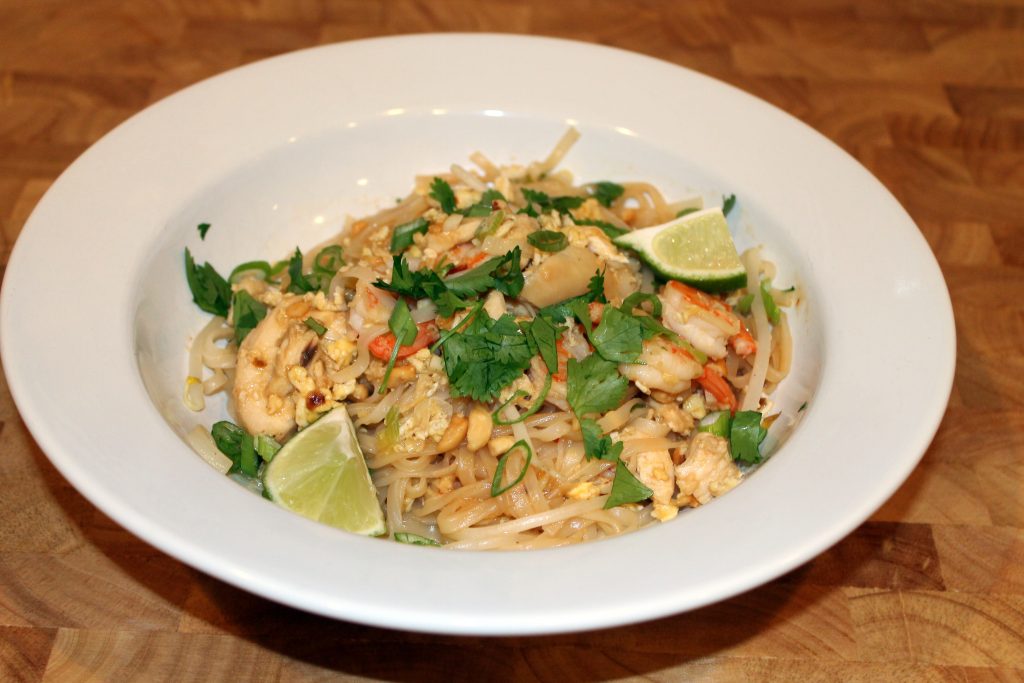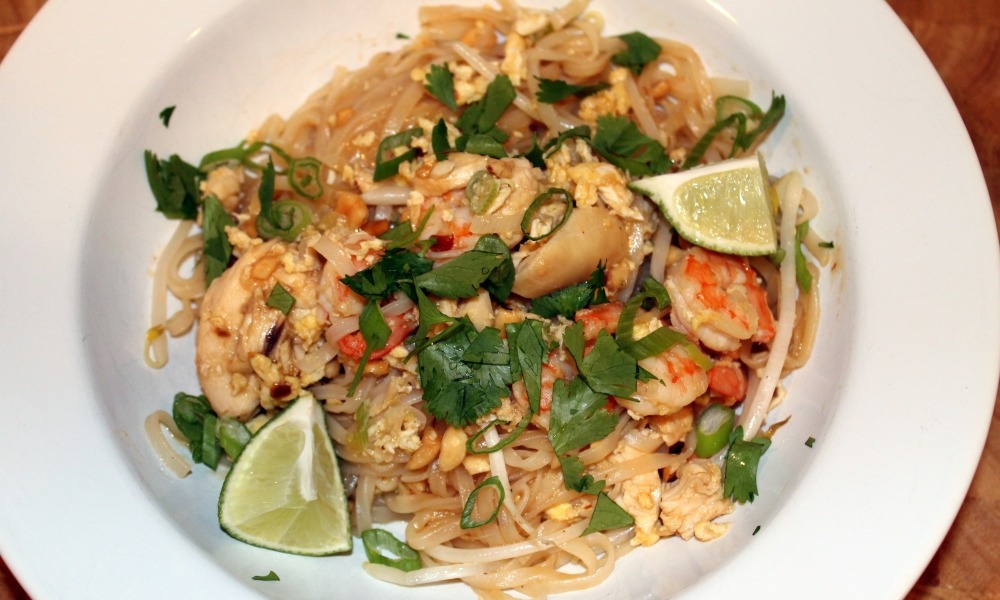 Print Recipe
Chicken & Shrimp Pad Thai
Ingredients
One 9oz package of Pad Thai noodles
15 medium raw shrimp, shelled and deveined
1 boneless chicken breast or the chicken from a rotisserie
3 garlic cloves, minced
1 tsp. grated ginger
3 green onions, finely sliced (keep whites separate from greens)
3 eggs
2-3 cups of bean sprouts
½ cup dry roasted peanuts, chopped
2-3 Tbsp. coconut oil
Lime wedges, for serving
Salt & pepper to taste
¼ cup cilantro
1 Tbsp. spicy Tamarind sauce
2-3 Tbsp. olive oil
2 Tbsp. rice vinegar
Juice of 1 lime
3 Tbsp. brown sugar
2 Tbsp. fish sauce
1-2 Tbsp. sweet chili sauce
1 ½ Tbsp. soy sauce
Salt & pepper to taste
Instructions
1

Combine Pad Thai Sauce ingredients together in a small bowl, and set aside.

2

Bring a large pot of water to boil. Cook noodles for 5-6 minutes, until al dente. Drain and rinse with cold water and set aside.

3

Heat coconut oil in a wok or sauté pan, and add the garlic, ginger, and the white parts of the green onion, and saute for 1 minute. Add the eggs and scramble.

4

Add chicken and shrimp and sauté for 3 minutes, until the shrimp turns pink and chicken is cooked/warmed through. Add 1-2 Tbsp. of the pad Thai .

5

Add noodles plus 1/2 of the remaining pad Thai sauce and mix. Add the rest of the sauce until its distributed throughout the noodles.

6

Fold in bean sprouts & peanuts and remove from heat. Serve in bowls and garnish with green onions & cilantro.